Jomsom Muktinath Trek  (6 night 7 days)
Jomsom Muktinath trek is another short trekking trip in the Mt. Annapurna region and its another peaceful trek as long you can introduce with Hinduism and Buddhism religiously. The whole area is inside the annapurna conservation area. It shows the beauties of the nature. That makes you happier that ever. It fulfills  your curiosity of seeing the real nature of the Himalaya.
To let you know that Muktinath is one of second dream place of any Hindu people after pashupatinath. It has carried a huge faith in religion. Anyone go to the muktinath temple and pray to the lord muktinath will bless you and relief you through the sins you have done. The first place from kathmandu, pokhara is a very beautiful city  lies on the lap of the greenery hills  shows you the beauties of the place in the very first glance. Various different eatery places and the greeting of warm hearted people don't make you feel very far from you home. It is a famous place for flying in the air by paragliding, kayaking on the phewa lake are  two really adventure sports. And more, travelling around the city by cycling is also a beautiful major entertainment in pokhara.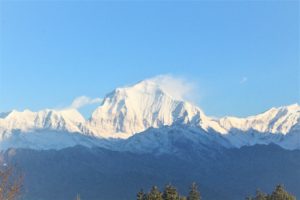 Flight from the pokhara to Jomsom is an amazing trip. Introducing with jomsom and the folks make you feel that now you are in the real himalayan land. Again tomorrow the camp before muktinath will be at kagbeni village. it could be  one of the favorite place of all the visitors. The muktinath village just right below the muktinath temple where you the night  is another attraction of this trek. The beautiful architected village and the culture & society of the Buddhist people are very interesting to introduce with. The kind hearted people greet you by the heart and make your stay preciously stayable and memorable. During this trek the panoramic views of mt. annapurna I 8'091m, mt. dhaulagiri 8'167m, Tilicho Peak 7'134m, mt.nilgiri 7'061m to be named few can be see.
Jomsom Muktinath Trek Detail Itinerary
Duration 6 nights 7 days
Day 1: Kathmandu to Pokhara
You have option for this travel so you want go by bus takes 8 hours or by flight takes 25 minutes. Any one you choose you will get an adventure experience you had never got that before.
Day 2: Flight to Jomsom 25 minutes
This is short travel by plane until Jomsom but it is the scenic flight you see the amazing views of the mountains and greenery hills and farms  during your journey to Jomsom. Jomsom is so famous for its apple farm and delicious apple cider.
Day 3: Jomsom to Kagbani village
It is about 4 hours journey so no rush to start walking early morning. easy and restful walk to kagbani and when you get in kagbani you feel very satisfy getting into the beautifully decorated village  and the very warm greeting of very civilized people.
Day 4: Kagbani to  Muktinath
This second day's foothill trip of about 4 hours walk to muktinath or so won't be really tired. The views of the beautiful rows of mountains and  the hills will be you very good friend that doesn't let you feel tired of walking.
Days 5: Muktinath To Jomsom
Today sightseeing of the Muktinath temple and  buddhist monasteries you will get down to Jomsom. Here in Muktinath you may got some interesting stories of Hinduism and buddhism. Religiously this is a very famous trekking trip so every year thousands of visitor make their trip to muktinath as they are very keen to get to Muktinath and want to be clean from all the sins.
Days 6: Jomsom to Pokhara 25 mins flight.
Once again an adventurous flight back to pokhara. so today you can have some more visit around pokhara city you have left to do. You can have experience of boating on the phewa lake and even paragliding from the sarangkot and a trip to little hill where you have a peace moment to go world peace pagoda the buddhist stupa. there are still many things to visit of like Davis fall, Mahendra cave if to be name more.
Day 7: Pokhara to Kathmandu.
Getting into kathmandu means your seven day's adventure journey of  Jomsom Muktinath is done.