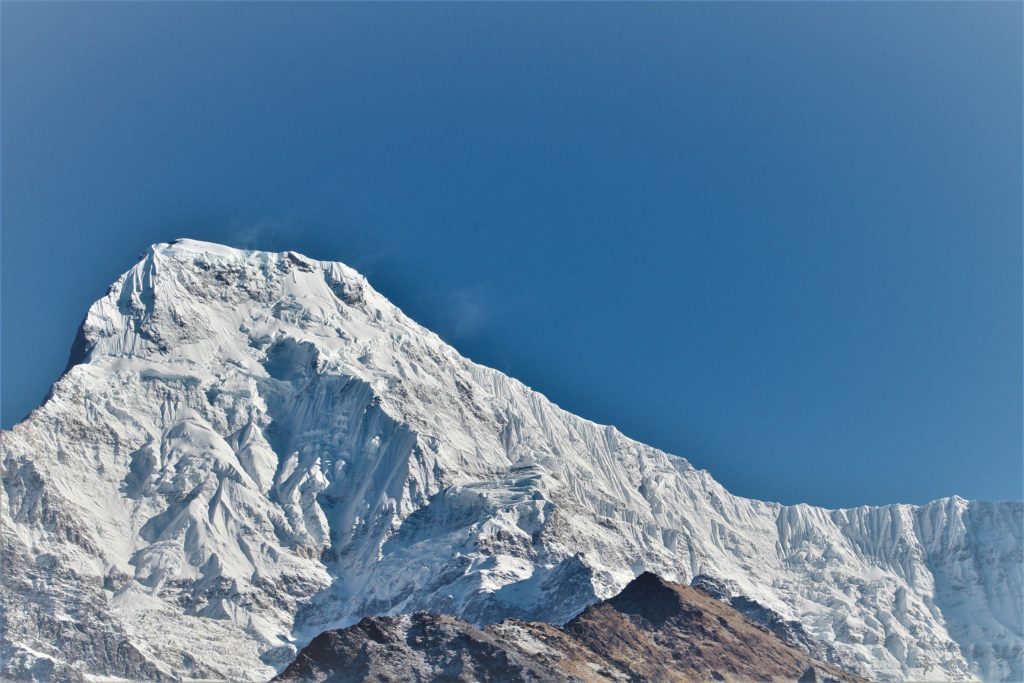 Annapurna Base Camp shows you the whole mountain ranges that are magnificent, colossal snow-capped  mountains that seems they are touching  the blue sky. Here, the air is pure feeling so fresh breezing but cold. At the base camp, such a unique condition is created by the mountains that you are intimately get lost  with them. You  see panoramic and picturesque view of Annapurna II, Annapurna III, Annapurna IV, Annapurna South, Tent Peak, Hiunchuli, Gangapurna, and Annapurna South. Their beauty is indescribable, they draw your attention and  takes you as far  to the corner of the base camp.
Annapurna Base Camp Trek begins from Tikhedunga a starting point, and from here, you cover a large distance of stone steps up to Ulleri. Sweating, blowing out air and absorbing the beautiful landscapes of the Annapurna region from mountains to hills to villages to lush forest to waterfalls, you head off to Annapurna Base Camp. Walking further leads to the emergence of region which is made of uphill trail, steel suspension bridges, less vegetation areas, dense forested areas, beautiful oak forest, and frequent bamboo forest, including the largest rhododendron forest of Nepal. In addition to these, after a descent hike from Ghorepani, you will reach Poonhill, which affords brilliant, amazing, and beautiful view of both Dhaulagiri Ranges and Annapurna Ranges. You will also see Fishtail Mountain, as well as, the mountain ranges bathing in sunlight.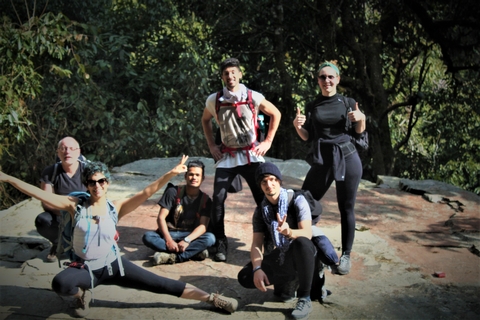 Off all the villages that the trail of Annapurna Base Camp Trek takes you to, Sinuwa village is calm, peaceful, and scenic. Its background mountains include Fishtail and Gangapurna. We know trekking is tiring, and we also know that trekking offers breathtaking views; therefore, we all want you to rest overnight at Jhinu Danda,  walking 20 mins down from Jhinu Danda, you will reach Jhinu Hot Spring , which will boost your tiredness for  the last trekking day of Annapurna Base Camp.
Impressive sunrise views from Poon Hill
Views of the world's highest mountains: Dhaulagiri I (7th) and Annapurna I (10th)
Overnight at Annapurna Base Camp
Spectacular mountain and glacier views from Annapurna Base Camp
Natural bath in hot springs at Jhinu
Trek Itinerary full detail 
Ady 1. Drive to Pokhara (7 hours Drive) but there is option to go pokhara by flight takes 25mins.
Day 2. pokhara to Nayapul and walk to uleri 1960m
it is 90 minute drive to nayapul  and 3 hours walk to uleri.
Day 3. uleri to ghorepani 2855m
it is very easy walking. it is just of about 4 hours walking to ghorepani but the shady into the jungle way makes you comfortable to walk.
Day 4. Ghorepani to Tadapani 2570m
today we go to on top of the poon hill 3210m to see the beautiful views of sunrise so  we must get  there before sunrise and from here we also see  the stunning views of Mt annapurna range and Mt Dhaulagiri and Mt. fishtail. then we come down and have breakfast then our walk will be to tadapani.
Day 5. Tadapani to chhomrung 2170m 
this is beautiful walking day. we walk through the village,the danse forest will take away your tiredness of walking.
Day 6. Chhomrung to dovan 2630mm 
Walking a few hundreds down and up again at dovan. this stone stair step walking of about 4 hours and the sinuwa village is beautiful part of the walking trail.
Day 7. Dovan to durali  3230m
Today could be the best walking day. the nature and the  the views of mountains will be ane of the great time. mt. annapurna is happily greeting you standing just in front of you.
Day 8. Durali to ABC (Annapurna Base Camp) 4131m 
This is our goal to get in the ABC so, it is an exciting day will have lots of lots have fun on the mountain.
Day 9. ABC to bamboo 2310m
After an wonderful trip that took until the annapurna base camp and sharing the great friendship with the himalaya we get down to bamboo for today's night.
Day 10. Bamboo to Jhinu danda 1780m
we get  here one of the naturalistic place and you will have the chance to get feel good and healthy to have a natural hot spring bath in jhinu hot string water.
Day 11. Jhinu danda to pokhara 
this is the ending day of the trek but still have one more day to get to the final destination. but we can have lots of adventurous  sport. and buying the gifts to someone you want to give.
Day 12. pokhara to kathmandu.
another long bus ride or you chose to fly it is your choice. and getting kathmandu means the ABC is done . now you can have fun travelling around kathmandu and you go shopping , buying the souvenirs to friends and relatives as gift from the himalaya.
The service includes and excludes in this trekking programme:
Includes
1. Airport pick up at arrival and airport drop in the departure.
2. full day  kathmandu valley sightseeing ( visiting places 1. kathmandu (Royal palace) Durbar Square 2. patan (Royal Palace) Durbar Square 4. Pashupatinath Temple (Hindu temple and crematoria) 4. Boudhanath Stupa (Buddhist Monastery) 5. Swayambhunath (Monkey temple) Stupa.
3. all the necessary trekking permits
4. transportation during the trek
5. Food and accommodation during the trek.
6. salary of  guides and  porter we hire for the trek.
7. welcome dinner in the typical local food restaurant. letting you introducing with nepali food.
8. farewell dinner after the trek.
exclude 
1. all the personal trekkings kids and clothes.
2. alcoholic and co2 mixed drink..
Tips to your guides and porters
3. Donation money if that happen on the way during the trek